BCX ULTRA Deluxe Rife Machine

A Fully Pre-Programed and Programmable Rife Machine That is Easy to Use

$2,795.00 / $2,695.00 with Cash Discount - 760-363-5496



A leader in Rife Machine technology for over 25 years, the BCX ULTRA Rife noble gas tube frequency generator is built with the ultimate standards for home users, alternative practitioners and researchers. This is NOT just another off-the-shelf frequency function generator but is an entirely original solid-state instrument, designed from the ground-up! The BCX Ultra is the result of many years of intensive laboratory research and testing which truly brings Rife frequency instruments into the 21st century with unequaled precision and performance. Features include 1236 permanent pre-set programs, which can not be accidentally erased. There are also 256 extra memory slots for storing your personalized Custom Programs consisting of wave forms, frequency rates, carrier frequency and time factors. BCX Ultra has many versatile capabilities such as Frequency Gating and the ability to combine separate carrier frequencies with the modulation frequencies of your choosing. The BCX Ultra has complete manual programming functions with such features as frequency sweeping from one frequency starting point to your ending point in adjustable increments, manual frequency input from 1Hz. to 4 million Hz. and a wide selection of waveforms and carrier frequencies.

BCX is a complete Rife frequency and waveform generator that can generate all known waveforms, along with their odd and even harmonics. There are actually three separate microprocessors in the unit that are known as Arbitrary Waveform Generators. This assures that the primary Rife frequency or an integer harmonic of that frequency will get the job done! Hundreds of individual researchers have validated the effectiveness the BCX. There are many choices in Rife Machines today. BCX Ultra is a name you can trust with a history going back over 25 years from its earlier.

Many prominent authorities in the world of finance and social trends are sounding the warning of social and economic decline or even outright collapse in the not too distant future. The last several years have seriously demonstrated the need to prepare for unexpected emergencies. In the future, conventional health services may be very strained, rationed, or non-existent. The BCX Ultra is the most versatile healing technology that should be on everyone's list for emergency preparedness. Without our health, we cannot serve our families, friends and community in the challenges ahead.
Does Vibrational Medicine Really Work? - for those who are new to the concept of vibrational medicine or frequency therapy, here is a short article that references scientific research conducted by physicists at Arizona State University and explains the science behind frequency based healing. This link will take you out of our website, so remember to bookmark our location. http://www.naturalnews.com/023855.html

Pulsed Radio Frequency - RF - background information - http://www.henleysmed.com/sites/default/files/review_2010_white_paper_may_2014_.pdf

Killing Cancer Cells with Resonant Frequencies - watch this Youtube TED talk video where radio frequencies from a gas filled plasma bulb disintegrates cancer cells. https://www.youtube.com/watch?v=1w0_kazbb_U

Rife Research and Rife Forum - a wealth of Rife information including numerous douments, Royal Rife interview, John Crane Video, Rife user forum and much more - http://www.rife.de/index.html

Dr. Dietrich Klinghardt, M.D., Ph.D. - Lyme Disease Treatment Protocol - http://www.klinghardtacademy.com/images/stories/Lyme_Disease/klinghardt_biological_treatment_of_lyme_disease_protocol.pdf

BCX Ultra standard package - What you will receive

* BCX Ultra control unit with Universal 100 to 240 volt adapter
* Noble Gas glass electrodes - containing argon, krypton, xenon and neon - max. power output is 30 Watts and 2,500 Volts
* Metal footplate electrodes
* Metal hand held cylinder electrodes
* Pre-gelled body contact electrodes (1 pair)
* DVD Instruction disk
* Sturdy carry / storage case
* Printed manual with complete operating instructions, therapy sessions listings and background history of Rife technology, use of noble gas tubes and much more. At this time, the operating manual is printed only in English.

Warranty - 3 Year warranty on parts and labor. Unlimited telephone and Email support from Volker Risto, owner of this business since 1985. Note - please do not send Text messages. We use the BCX Ultra Deluxe on a daily basis. It has been an enormous asset in our overall health and wellness program.

BCX Ultra Control Unit Features

Power supply
Input: 100-240VAC, 50-60Hz, 1.2A - BCX is ready to use anywhere around the world. No voltage transformer is needed for overseas use. Some areas may need a simple wall socket adapter.
Output: 24VDC @ 2.0A
Dimensions: 11.0" x 8.0" x 3.0"
Weight - 2.5 lbs

BCX LCD Status and Indicator Panel Readouts

* Five - Green LED 16 character alpha numeric display
* LED indicators for - ray tubes, electrodes, LED wand and real time session operating functions
* View Built in Instructions on LCD display screen
* Run a pre-program - Scroll or select a built-in program name or number. Both are displayed on screen
* Run a user program - Scroll or select your custom program by name or number
* Create - Edit - Save - Run - a custom program
* View program information in progress
* Number a custom user program using up to four digits
* Name a user defined program with alpha-numeric characters
* Copy a program to another user program location
* Erase a user program

Controls and Programming Features

* Input: 1- jack for power input (DC power plug, 2.5mm, center positive)
* Input/Output: jack for computer (USB Type B)
* Outputs: five - two jacks for footplate electrodes, two for the noble gas, glass tube electrodes and one LED wand
* LED Display - a 16 character green Led display to keep the user informed of all program functions and session progress
* Buttons for - Power On/Off - Start - Pause - Stop - Change - OK - Back - Next
* BCX has 1236 pre-stored programs and memory slots for storing another 256 user defined programs

Output Type: Select from numerous electrode combinations

* Hand held metal cylinder electrodes
* Footplate electrodes only - these also deliver the RF (radio frequency) energies
* RF - noble gas ionized raytubes only (containing Argon, Krypton, Xenon and Neon)
* LED Wand only
* Auxiliary only
* Footplate electrodes & noble gas ray tubes simultaneously
* Electrodes & LED wand simultaneously
* Electrodes & auxiliary simultaneously

NOTE: Colored Led Wands, Foot Bath and the various free standing glass tube attachments are optional accessories
and are not included in the basic purchase price

BCX Ultra - Rife Frequency Instrument - $2,795.00

Get a $100.00 Discount with cash payments for the BCX Ultra Deluxe and BCX Ultra Deluxe Combination packages.

Three Year Warranty on Parts and Labor and Free Unlimited Phone and Email Support.
Shipping - U.S. - $35.00 - Canada - $65.00 - Int'l - $215.00. Expedited U.S. Lower 48 States - Ups Next Day - $145.00 - 2nd Day $116.00 - 3 Day $80.00

NOTE: We also own the website - BCXRIFE.COM - which focuses just on the BCX Ultra Deluxe and Accessory items and which is more compatible for hand-held - mobile device viewing.


---
BCX Model ULTRA-LITE - $3,895.00-
This configuration combines comple BCX Ultra Deluxe program menus along with our higher wattage double bubble beam tube. You get all of the same 1,236 Pre-installed Rife programs, complete customization, along with the hands-free beam tube.





Unit does not ship with the metal hand-held electrodes or the metal footplate electrodes as part of the standard package. An optional Metal Electrode Accessory Kit can be purchased for - $128.00 (includes a pair of metal foot-plate electrodes, hand-held electrodes and two sets of reusable gel pads. The metal electrodes shown in the above photo are for illustration purposes only. NOTE: The Ultra-Lite cannot be fitted with the regular BCX Ultra hand-held Ray Tubes.

WHY Order the Ultra-Lite ? - the BCX Ultra-Lite is ideal for users who want the convenience of a Hands-Free Rife session without the need for body contact glass tube or metal applicators. The 'Double Blubble" plasma tube is more powerful than the hand held tubes. Place the device on a night stand and run a program for individuals confined to bed. OR - chain one or two programs together and run the Ultra-Lite during sleep time. (Note: there is not a programmable time delay start function).

The BCX Ultra-Lite is a stand-alone, fully programmable Rife generator and features the complete library of 1,236 pre-set Rife programs as our standard BCX Ultra. Please be aware that the optional accessory items such as Led, Vortex Coil, Double Bubble tubes, Magnetic Mat cannot be attached to this unit. They all require the purchase of our standard BCX Ultra unit. The BCX Ultra-Lite does not require purchase of the basic BCX Ultra unit in order to operate. The Ultra-Lite double-bubble tube mounted on the base unit allows for easy hands-free use for individuals and even several people at the same time. Also, the power levels on this model are much stronger than the hand-held glass tubes of the standard BCX Ultra

U.S. shipping - Ups Ground - $35.00 or $45.00 Usps. Canada - Ups Ground $85.00 - Int'l - $315.00. U.S. Expedited - not available.

Phone or Email for More Information - We do Not Offer Shopping Cart Check-Out. Please Call or Email for Purchasing Information. Payment Options - credit or debit card, Paypal, check or wire transfer.

(760) 363-5496 - vristo@earthlink.net

Scroll down the page to see all BCX optional accessories and complete BCX combination packages including PEMF Mat, Far-Infrared Mat, High Frequency Plasma Bubble tube, BCX Ultra-Lite and More!

Check with us for our monthly product sales and special offers. We match all BCX pricing. We also own and use the BCX on a daily basis and offer unlimited telephone support in getting you up and running!

Shipping weight of standard BCX package is 11 pounds. Ordering information at the bottom of page. Warranty for the BCX Ultra and Ultra Lite is 3 years. There is a 10% restocking fee for returns. In the event of repair or servicing, the BCX would need to be returned to the manufacturer and the customer is responsible for any shipping expenses. Also, you may be required to pay additional import taxes /customs fees for overseas orders.

(760)363-5496

Thank You,
Volker Risto - owner and operator since 1985
We also own and operate the web site - Braintuner.com - which includes Pemf, Fscan, Sota Products and More!



Scroll Page to See BCX Combination Packages and Additional Options to Customize Your BCX Experience


Regular Intensity LED Applicator - Red, Green or Blue - for localized stimulation - $90.00 each
Shipping - U.S. - $15.00 Usps - Canada - $25.00 Ups or Usps Int'l Priority - $40.00





Color therapy has a long history as a healing modality. Modern science has researched and validated the many practical healing applications of Led and low level laser therapy. Green is know to be very calming and restorative, while Red acts to energize and promote enhanced circulation. Blue light has strong anti-bacterial action. There are many resources on the internet for more information about the history and healing powers of colored light therapy.

Specifications - see our BCX specifications pdf for complete information

Red - 640 nanometers - Green - 520 nanometers - Blue - 467 nanometers
Single or Mixed Frequencies - run one or two frequencies with or without variable frequency carrier
Power source - plugs into and is powered by the BCX
Range is 1 Hz. to 100,000 Hz.
Intensity - adjustable
Power Output - Red = 24,000 mcd Max - Green = 108,000 mcd Max - Blue = 21,600 mcd Max
The designation mcd is millicandela and is a different type of measurement than Lumens



High Intensity - Red, Green or Blue LED's - $262.00 ea.
Produces Deeper Penetration for Faster Results than our regular intensity LED's
Shipping - U.S. $14.00 Ups/Usps - Canada - $33.00 Ups/Usps - Int'l - $38.00 Usps Priority Mail only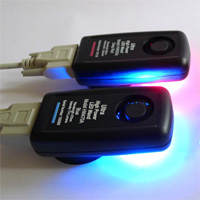 Red - 626 nm - Green - 530nm - Blue - 470nm
Range - 1 Hz. to 4MHz. Squarewave - 1Hz. to 100,000 Hz. all other waveforms
Intensity - adjustable levels 1 to 100
Power Output - Red = 255 Lumens Max - Green = 435 Lumens Max - Blue = 174 Lumens Max


LED Applicator Frequency - of the high-intensity Leds is adjustable up to 4 MHz using a Squarewave. LED wands have no polarity and all waveforms can be applied to them. The frequency output is from 1 Hz. to 100,000 Hz. for other waveforms such as Sinewave, etc.)

The BCX can only accept a single LED applicator at one time. Some customers have asked if they can use two of these at once. While this could be desireable, the LED power requirements are too high for the BCX to run more than one at a time.

Replacement Glass Ray Tubes - in the event of loss or damage, replacement glass tubes are $95.00 each.
Shipping for Ray Tubes - U.S. - $14.00 Ups/Usps - Canada - $38.00 Ups/Usps
Optional Free Standing Tubes - Foot Bath - PEMF Mat - FIR Mat
Need Help Configuring Your Ideal BCX Package? Call or Email

The free standing glass bubble tubes (also called Beam Tube) and the footbath appliance require the BCX Ultra unit in order to operate. These items may be purchased at the time of ordering your BCX Ultra or at any later date.

Double Bubble 4 Mhz. Beam Tube - BT- HF-EFG - Cost: $2,995.00 - see photo of Beam Tube below, connected to BCX
Shipping for Beam Tube - U.S. - $35.00 Ups - $45.00 Usps - Canada - $85.00 Ground - Int'l - $315.00 - Expedited service not available.

This tube output is primarily producing an Electrical Field for those researchers interested in this option.

Operating Frequency Range - 1Hz. to 10,000 Hz.
Wave Form - square wave only
Duty Cycle - 1 to 100 percent
Carrier Frequency Range - 1 to 666Hz.
Modulation Frequency - able to combine two frequencies at a time
Frequency 1 - adjust from 1Hz. to 10,000 Hz.
Frequency 2 - adjust from 1Hz. to 10,000 Hz.
Energy Output type - Efield (electric field generator)
Power Level Adjustments - variable intensity adjustment - 80 to 100.
Power Output - 20 milli-joules / pulse. (72 Watts @ 3,600 Hz.)
Double Bubble 4 Mhz. Beam Tube - BT-HFPCM2 High Frequency - Cost: $2,995.00
See photo of Beam Tube below, connected to the BCX Ultra Deluxe unit.
Shipping for Beam Tube - U.S. - $35.00 Ups - $45.00 Usps - Canada - $85.00 Ground. - Int'l - $315.00. No expedited service.

This tube ouput emphasizes RF - Radio Frequency - output and is in the tradition of the original Rife Beam Tube. This is the more popular option with our BCX users.

Available as a separate purchase item - double bubble glass tube with base. The beam tube will not operate as a stand-alone appliance. It must be used while connected to the BCX Ultra base unit. This is for users who already own a BCX Ultra Deluxe or previous model BCX Ultra and wish to add the high power 4. MHz. Beam tube to their BCX system.
---

Combination Package - BCX Ultra + Double-Bubble Beam Tube

BCX Ultra + BT-HFPCM2 Beam Tube - $4,995.00 or $5193.00 with BCX Standard Electrode Sets
This configuration does not include the standard BCX Ultra Deluxe electrode package of hand-held Ray Tubes, Footplates or Metal hand-Held Electrodes. These are an available option for - $273.00 extra.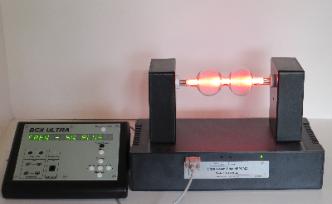 Shipping - U.S. - $70.00 Ups or $90.00 Usps - Canada - $120.00 - Int'l - $375.00. No Expedited service for the Beam Tube.

Operating Frequency Range - adjustable pulse from 1 Hz. up to 4 MHz. if using a squarewave and up to 100,00 Hz. for all other wave forms such as Sine Wave.
Wave Form - any BCX waveform can be used. Maximum frequency accuracy and power output with squarewave
Duty Cycle - 1 to 100 percent
Carrier Frequency - adjustable ranges (1) from 1 to 100,000Hz. and (2) from 0.100MHz to 4 mHz (squarewave)
Modulation Frequency - able to combine two frequencies at a time:
Frequency Number One - adjust from 1 Hz to 100,000Hz. or from 0.100mHz to 4.000 MHz
Frequency Number Two - adjust from 1 Hz. to 100,000 Hz. or from 0.100mHz to 4.000MHz
Energy Output type - RF (radio frequency)
Power Levels - variable intensity adjustments from level 1 to 100. 150 Watts maximum output depending on program
Warranty - 3 Year Warranty
---

BCX Pulsed Magnetic Field Therapy Options

BCX Ultra offers several options to convert your BCX into a full-fledged Pemf (pulsed electro-magnetic field therapy) system that has the unique ability to run BCX Rife frequencies through a magnetic body mat and a localized applicator coil. No other Rife machine has this capability. You can run various waveforms and frequencies from 10 Hz. up to 10,000 Hz. through the mat and the coil. There are several different options available as described below.

Combination Package BCX Ultra Deluxe with BEP Ultra Mat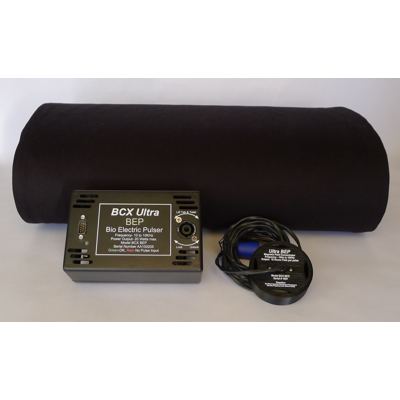 BCX ULTRA DELUXE + Bio-Electric Pulser Mat
or Magnetic Concentrator Coil

BCX Ultra Deluxe plus Bio-electric Pulser with full length Mat - Combo Package - $3,590.00
BCX Ultra Deluxe plus Bio-electric Pulser with local Concentrator Coil applicator option - $3,550.00


These two combination options include the full BCX Ultra Deluxe standard kit seen at the top of this page, along with all of the normal accessories electrodes, combined with the pulsed magnetic therapy full length body mat or with the Concentrator Coil.(the round black item in the above photo). The Pemf Mat connects to the BCX Ultra and plays many of the pre-set BCX programs and waveforms. There is a frequency range limit of 10 Hz. to 10,000 Hz. for the Mat compared to 4 MHz. for the BCX. Most other Pulsed magnetic field therapy full body mats are usually limit their frequencies to under 100 Hz. The small round Concentrator Coil is normally applied to localized areas of the body needing more concentrated attention, such as joints, muscles, etc.

Regardless of which combination package you order, the full length body Mat and the Concentrator Coil can be ordered as an additional item. The full length body mat alone is - $395.00 and the Concentrator Coil alone is - $225.00. In either case, you would already have the BCX Ultra BEP (the rectangular black box shown in the photo above, which is a power booster module as the BCX needs a little extra power boost to operate the Mat or the Concentrator Coil). It's all about giving you the ability to customize your BCX Ultra Deluxe and Accessory appliances.

Shipping - U.S. - $70.00 Ups or $90.00 Usps - Canada - $100.00 with Mat - International - $350.00 with Mat. Expedited rates to U.S. lower 48 States only - Ups 3 Day - $130.00 - 2nd Day - $190.00 - Next Day - $210.00.

Specifications

Frequency Range: 10-10,000Hz
Waveform Types: All Ultra types - Sinewave, Squarewave, Sawtooth Wave and more.
Power: 20 Watts Max.
Gauss- Mat: 4.7 Gauss Max.
Gauss- MFC: 18 Gauss Max. for the round hand-held magnetic concentrator coil - a $225.00 purchase option.


---

BCX-BEP Ultra - $895.00

A Pulsed Electromagnetic Field Therapy Full Body Mat and Control unit that connects to the BCX Ultra

Note: this Mat only works if connected to a BCX Ultra Deluxe unit and would normally be ordered by previous BCX Ultra customers who want to add additional functionality to their BCX Ultra experience. This is the same mat as above that is usually ordered as part of the BCX Ultra Deluxe and BEP Magnetic Mat combination unit. The round magnetic concentrator coil shown in the photo below is not part of the standard package and can be purchased for an additional amount of - $225.00. The concentrator coil has a miximum Gauss output of 18 Gauss and is used to apply to smaller, localized parts of the body for more rapid healing response.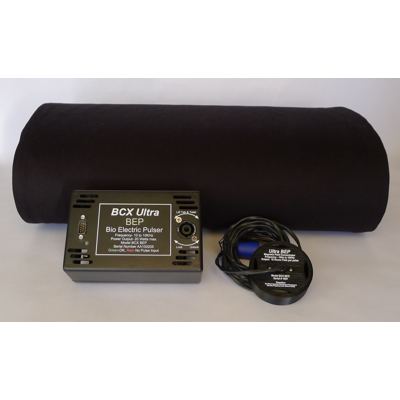 This option is for someone who already owns the standard BCX Ultra and wants to add a pulsed magnetic field mat. It provides all of the many health benefits of PEMF therapy with the unique capability of pulsing BCX Rife Frequencies into the mat from the BCX control unit. The frequency range of the mat is from 10 Hz. to 10,000 Hz. Power output is maximum of 20 Watts, depending upon the program. We are offering this at a fantastic price. Full body PEMF mats such as the QRS or Curatron typically run from $3,995.00 up to $12,000.00. The BCX magnetic therapy mat employs a copper coil construction that evenly distributes the magnetic field throughout the mat, so there are not any 'hot' and 'cold' spots on the mat. The magnetic therapy mat includes the Controller Module that plugs into the external port of the BCX Ultra base unit to provide programming information to the mat. Then, the mat plugs into the Control Module to provide the extra power boost to run the mat.

Shipping - U.S. $35.00 Ups or $45.00 Usps - Canada - $63.00 Ups Ground - Int'l - $174.00. U.S. expedited service - Expedited service to U.S. lower 48 only - UPS 3-Day $53.00 - 2nd Day $60.00 - Next Day - $90.00.



---
PEMF-ST (Bio-Electric Pulser) Pemf Mat and Control Module - as a stand-alone Pemf Mat - $895.00.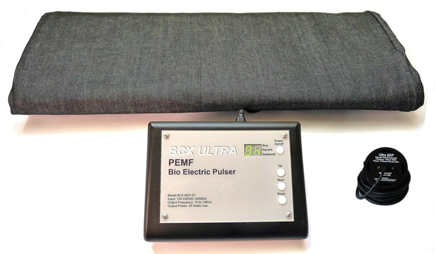 Purchase of the BXC Ultra Deluxe unit is not required for this option.

Pemf Mat and Control Module - operates as a stand-alone Pemf Mat with 77 internal programs. This version will not connect to the BCX Ultra and does not offer all of the features as the BCX connectable version. Note: this does not include the round magnetic concentrator coil show in the photo. The concentrator coil is an option for $225.00
Features

The Pemf-ST (Stand-alone) unit features 77 popular magnetic therapy programs. It has 16 levels of intensity up to 47 Gauss, timer control from 1 minute to 60 minutes, frequency ranges from 1 Hz. to 100 Hz. For a listing of Specs. and programs see - https://whitmantec.com/_pemf/pemf-st.html - There is no ordering available on that site. It is presented for complete information of the BCX Ultra and product line. Be sure to press your return button to place your order with Transformation Technologies.

Shipping - U.S. $35.00 Ups or $45.00 Usps - Canada - $63.00 Ups Ground - Int'l - $174.00. U.S. expedited service - Expedited service to U.S. lower 48 only - UPS 3-Day $53.00 - 2nd Day $60.00 - Next Day - $90.00.



---
Magnetic Accessory Options



Local Applicator Magnetic Concentrator Coil Only - $225.00 - plus $35.00 U.S. ground shipping. - The concentrator is a small hand-held applicator, used to apply a concentrated magnetic pulse energy to a localized area of the body. This is ideal for faster recovery of muscle strains and over-exertion, joint pains, sporting injuries and much more. The Concentrator speeds localized healing by improving blood flow and oxygenation to areas of stress or pain. This reduces inflammation and rapidly improves joint mobility. The local applicator coil can also be applied to household pets. If you already own a BCX AND the Magnetic Mat, then you just need the extra Concentrator / local applicator, as you would already own the required conrtoller module that the concentrator applicator must plug into. Maximum field strength of the Concentrator is 18 Gauss.

Local Applicator Concentrator Coil and Controller Module - $870.00 - plus $35.00 U.S. ground shipping. As described above, some customers may not have a need for the full size body mat, but only need a localized applicator coil. In this set-up you will still need the concentrator coil AND the Controller Module, which is a power booster, in order to properly power the Concentrator coil. Maximum magnetic field strength of the Concentrator is 18 Gauss. This is ideal for targeting localized areas for faster healing and recovery (knee joints, shoulders, lower back, etc.). This accessory plugs in to the main BCX Ultra unit.

Full Body Mat, Local Application Concentrator Coil and BEP Ultra Controller - $1,120.00 plus ground shipping. This option provides the full size Pemf body mat, the localized applicator coil (concentrator) and the controller module (power booster) - This plugs into the main BCX unit and is for users who already own the BCX Ultra.

For complete shipping rates for U.S., Canada, International and availability of Express Services - please call or Email



Pulsed Electromagnetic Field Therapy has Many Well-Documented Benefits
| | | | |
| --- | --- | --- | --- |
| | | | |
| | | | |
| Relieves Muscle Aches and Pains | Better Sleep | Quicker Healing | Cellular Energy Transfer |
| Reduced Inflammation | Greater Mental Clarity | Balances Vital Energy | Improves Skin Tone |
| Better Joint Mobility & Flexibility | Helps Nervous Tension | Better Circulation | Enhanced Sex with |
| Relaxes Tense Muscles | Reduced Anxiety | Improved Oxygenation | Improved Blood Flow |


Frequency Range - 10 to 10,000 Hz Adjustable - for BCX Ultra connectible version
The PEMF option that plugs into the BCX base unit runs all 1236 BCX Ultra Programs and 255 User Defined Programs
The Stand-Alone PEMF Mat can not interface with BCX and offers a limited program menu of 77 programs.
Produces Low-Power High Duty Cycle Waves
Session Times - 1 minute to Continuous
Magnetic Field Strength - 4.7 Gauss Maximum
Maximum Field Strength of the optional Concentrator Coil is 18 Gauss
Duty Cycle Control - 1 to 100%
Waveform - Select from any of the Standard BCX Ultra Waveforms - Squarewave - Sinewave and more.
Intensity Adjustments - 1 to 100 Maximum Field Srength
Maximum Power Output - 20 Watts
Cotton cover
Dimensions - Six Feet by 28 Inches


---

BCX Far Infra-red Therapy Mat - the only FIR Mat with Rife Frequencies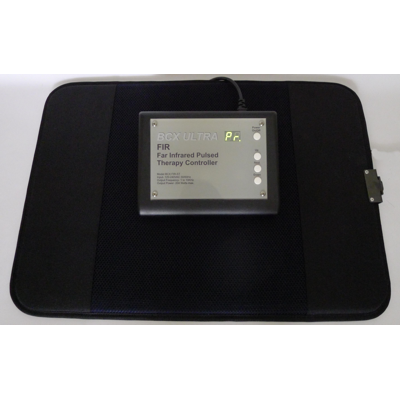 Available as a stand-alone FIR Mat or as an accessory module that connects into the BCX Ultra Deluxe unit - $995.00 for either model.

Purchase as a combination package along with the BCX Ultra Deluxe unit - $3,690.00. This option allows one to run BCX Programs through a Far-Infrared Therapy Mat
Purchase as a stand-alone FIR Mat without the need to own a BCX Ultra - This option does not interface with the main BCX Ultra Deluxe base unit and offers limited number of 23 therapy programs - Click Here for program information

If purchased as the BCX - connectable version, the mat can receive limited programming information from the BCX unit, running any of the standard BCX programs using a Squarewave form. Complete specifications.

Complete specifications on the BCX FIR Mat are located on an external page. Click Here for FiR specs and return to our site at braintuner.com when ordering.

Shipping - U.S. Ground Ups $35.00 or $45.00 Usps. Canada $65.00 - International - $174.00. Expedited shipping rates for lower U.S. 48 States only - Ups 3 Day $53.00 - 2nd Day $60.00 - Next Day $90.00


---
Sixty -Day Money Back Satisfaction Guarantee

Note: there is a 10% restocking fee for returns. Shipping cost is not refundable. If returned merchandise is damaged or inoperable the cost of restoring it to operational condition will be deducted from any refundable amount.

Warranty - BCX ships with a three year warranty against defects. Coverage does not include misuse or careless handling or breakage of glass tubes from accidental dropping on floor, etc. Customer is responsible for the cost of shipping returned merchandise. Please inspect your BCX package upon delivery for completeness of standard items and accessories. Check for any breakage of glass tubes and report this to your distributor as soon as possible.

---
Explanation of BCX Ultra Waveforms, Frequencies and Harmonics Four Page Pdf.

Additional Explanation of Sine Waves, Square Waves and other wave forms
BCX ULTRA - All Models and Accessories Specifications:
Complete Specifications Page