What Is The Sota Lightworks?

As we understand it, here is how it works: The LightWorks combines the ancient wisdom of color and light with the gentle frequencies and LEDs of modern technology to gently awaken the body's natural tendency towards general health and well-being.
Our body cells rely on light. We absorb light through the sun and our food. Light is a source of energy that works with the natural flow of electricity within. Our electrical system produces energy for our bodies.
In addition to LED technology, the LightWorks also has options for the LED light to be pulsed with specific frequencies. The purpose for applying these frequencies is to work with the body's natural healthy vibrations.
A Wellness Lifestyle incorporates a holistic approach to living life in a way that supports abundant health. A holistic or wellness approach views our bodies on many levels which may include: mechanical, chemical, mental, emotional, energetic, spiritual, as well as electrical.
All living things are electrical in nature. We view the SOTA Products as a way of working with the body's natural electricity or energy, contributing to Wellness. This is similar to how exercise, eating good nutritious foods, juicing and meditating all help nourish the body and contribute to a healthy lifestyle.

Red and Near Infrared Light Hand Paddle

The Hand Paddle included with the LightWorks unit offers these two choices:

Red Side

In addition to a long history of use, Red as applied through LED light, has been recently researched for benefits to human life. Red is considered a hot or stimulating color. In nature, the element hydrogen is Red.
Stimulating, forceful and vigorous. Red is the color of power and vitality with a cheering effect. Traditionally, Red is thought to be related to nutritional metabolism, blood, liver and skin.

Near Infrared Side

The benefits of the use of Near Infrared (NIR) LED light caught public attention with NASA experiments using NIR LED light for plant growth in space. This research was expanded to apply NIR LED light to benefit humans.
NIR light is not strictly defined as a color as it is not visible to the human eye. Three of the LEDs on this side of the Hand Paddle are Red to give a visible indication that the NIR LED lights are working.
Traditionally, NIR light is thought to be related to the eyes (from the side of the head), muscles, nerves, immune function and skin.

How to use the LightWorks

Apply the Hand Paddle directly on the skin to any area of the body. Clothing will block the light. The LightWorks offers two options to apply the LED light and the healthy frequencies:
Automatic Option - This setting cycles through all the Modes—Constant plus each of the seven healthy frequencies. This option is timed for 24 minutes.

Manual Option - Select one of 8 Modes: The Constant Mode outputs LED light only—without any added frequency. Modes A through G output both LED light and a specific healthy frequency. Each Mode operates for 20 minutes.

Consistent or daily use may be needed to experience benefits.
For more detailed instructions, read The SOTA Products User Guide and the Product Manual.

Eight different selectable pulse Modes - Constant ON + settings A through G
The LightWorks unit will output a steady (non-pulsed) beam of LED light when in Constant Mode. The LightWorks unit can pulse the LEDs at seven specific healing frequencies (Modes A through G). Modes are selected with the ON/OFF/MODE button. The currently selected Mode is indicated by the appropriate Green Mode lights.The unit starts up in the Automatic Cycle, running through each of the 8 Modes for 4 minutes per Mode. An Orange light on the base indicates the Automatic Cycle has been selected.In the Manual Cycle the Constant Mode will stay on for 30 minutes, and Modes A through G will stay on for 15 minutes. When the LightWorks unit has completed a Manual or Automatic Cycle, it will shut itself OFF. The Hand Paddle Button on the base unit is used to select which side of the paddle is active.


The Table Below Indicates the Frequency of each Mode of the Lightworks
| | |
| --- | --- |
| Mode | Frequency |
| A | 292 Hz. |
| B | 584 Hz |
| C | 1,168 Hz |
| D | 2,336 Hz |
| E | 4,672 Hz |
| F | 73 |
| G | 146 |
| Constant | No Frequency. Output is continuous / constant |
| Automatic | Auto-cycles for 4 minutes in each Mode (Constant, then A through G) |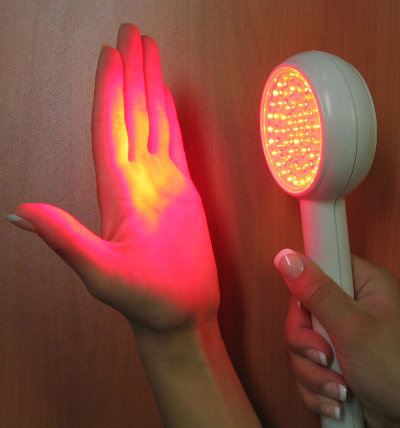 Specifications

Constant current of 20 milliamperes per LED (Constant current ensures each LED has the same output.)
60 High Intensity Red LEDs at 660nm wavelength (+/- 10nm), Approximately 197mW Total Output
57 High Intensity Near Infra-Red LEDs at 880nm wavelength (+/- 10nm), Approx. 228mW Total Output
Frequency tolerance: +/- 1Hz
Power Input: 12 Volts DC @ 1.0 Amps - Universal AC Adapter for 110 VAC, 60 Hz. to 220 VAC, 50 Hz.
Red Led Output during 15 min. programs - (660nm side of applicator) = 88 Joules
Near Infrared Led Output during 15 min. programs - (880nm side of applicator) = 102 Joules
Warranty - 3 year manufacturer warranty on parts and labor
Automatic Shutoff with audible beep indicator


Optional Accessories
NEW - we now offer two Color Therapy paddles that turn your Lightworks into a complete color therapy instrument. Each paddle includes two colors (one on each side). There is a Yellow / Orange paddle and a Blue / Green paddle. Orange = 605nm, Yellow = 590nm, Green = 520nm and Blue = 465nm

The color paddles are sold only as a set of two (all four colors) for - $295.00.

The standard Lightworks unit must be purchased in order to use these accessory color paddles. The color wands may be used in many different ways. Ideally, the light should be contacting exposed skin surfaces.
* Hold the wand directly over an area of focus
* Prop up the wand in a standing position using pillows or books to hold the wand upright. Then sit on the floor or in a chair from 1 to 3 feet from the light to allow smaller or larger areas of the body to receive the light. One may even choose to exercise color breathing meditation techniques during the session.


Light Works - $385.00

New Model LW2

Shipping will be added at time of purchase. Overseas customers may be required to
pay additional import taxes. This varies according to each country or trade zone

Join the Sota Community
Members of the Sota Community have access to owners manuals and in-depth video instruction on using all of the Sota products. You also have access to the informative Sota Newsletter. Joining the Sota Community is easy! Just place your initial order directly with Sota Instruments per ordering option #1
Please Review our two Ordering Options Below


Option 1 - order directly from Sota Instruments with our Refrral Code and receive an Extra 5% discount on your first purchase. You must click this link to enter the Sota ordering system. Pass this Referral Code along to your family and friends and they will also receive the 5% discount on their first purchase.

http://www.sota.com/default.aspx?page=15&rtd=CA50025
In the event the link is not active, call Sota at 800-224-0242 and give the operator your Referral Code number CA50025. Pass this Referral Code along to your family and friends and they will also receive the 5% discount on their first purchase. Sota will process your credit card and ship the items directly to you from Canada. Charges will include item amount & shipping. Orders processed directly by Sota Instruments are sent by Canada Post. Rate vary according to destination and are subject to change without prior notice.

Option 2 - order directly from Transformation Technologies. No retail discounts are available with this option.

To Order from Transformation Technologies call:
Toll Free in U.S. - 877-287-0912
Overseas customers call (760) 363-5496



Note: The SOTA units are classified as Consumer Products designed to be used as part of a Wellness Lifestyle. The SOTA units are not medical devices nor are they intended to diagnose, treat or cure any medical or health condition. The use, safety or effectiveness of the SOTA units, has not been approved by any government agency. Please consult a health practitioner for any medical or health condition. Results are not typical.